Online courses as an alternative method of vocational orientation for young people
For many teenagers in vocational orientation training, it is the first time they face the question,
"What kind of job do I want to do in the future?"
Students often have the wrong idea about certain career options, or they exclude good job possibilities based on strong prejudices conveyed by society or by their direct environments.
There is a need for action here. It appears to be difficult especially for girls to explore certain professions in a non-judgmental and open-minded way.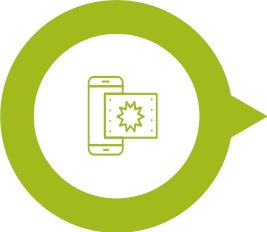 Our online courses provide deep insights into different basic professional fields in the IT sector,  having a focus on the open source software communities, and offer an improved career orientation for young people independent of time and place.
Students!
Are you looking for a non-binding opportunity to get a glimpse into the professional world of the IT industry?  – Then you are exactly at the right place!
With the online courses of ITONBOARD you get deep insights into the basic professional fields of IT.
You have the chance, no matter where in the world you are, to get to know experienced IT specialists and their professional daily life, in order to find out if your dream job is in the IT sector. 
Interesting exercises, skill tests and exciting content are waiting for you. A certificate will be handed out upon successful completion of each course.
So what are you waiting for?
Register now and start your career orientation here.
Teachers!
Career orientation is on the agenda! What to do? 
Use ITONBOARD's online courses and ensure a varied and exciting career orientation. 
Focused on the basic professions and career opportunities in IT, your students will gain deep insights into the everyday life of experienced IT specialists, as well as the advantages and disadvantages that these professions entail. 
With interesting skills tests and exciting exercises, your students can playfully find out whether their dream job is in the field of IT. A certificate will be handed out upon successful completion of each course.
So what are you waiting for?
So what are you waiting for? Register now and start exploring the career orientation courses for your students here:
Companies!

Hiring and training new young people and employees is difficult and time-consuming, and can be a challenge for many companies.
ITONBOARD offers the solution!
The online courses of ITONBOARD, which were designed for the career orientation of young people, can also be used by companies. They offer a flexible and modern way of onboarding young new workers and interns. Especially in times of remote working, these online courses are the perfect solution. A certificate will be handed out upon successful completion of each course.
Skill tests and exercises will show you the talents and skill set of your future workforce, so that you can employ them in the ideal place in your company and support their respective potential.
Help young people settle into their IT jobs and your company by having them work through ITONBOARD's online courses. 

You will not regret it: